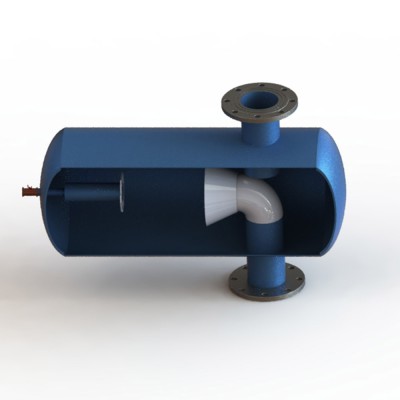 Product Detail
These are the products that separate the water and existing dirt from the steam, air and natural gas circuits and make the steam, air and natural gas clean and dry. Liquid droplets circulating freely in the installation can only be collected with a separator.
When the freely circulating, moisture-filled gas of varying size enters the separator, it turns downwards around the conical inner structure and begins to scatter. Liquid particles, droplets and sediments in the gas are swept away and separated. Liquid and sediments are collected under the separator plate, and dry and clean gas continues in the installation. Separated liquids and sediments are discharged by trap or manually.
– Durable, lightweight and maintenance-free design.
– Welded construction, fabrication from carbon steel or stainless steel.
– Flanged, threaded or socket connection options in ISO, DIN and ANSI norms.
– Manufacturing in special dimensions for ease of assembly in required conditions.
– Pressure strength and tightness test in all manufacturing items
Design and Test Pressure: 25 bar
Design and Test Temperature : 150°C