Product Detail
Ball Check Valve General Features
Ball check valves are specially designed for waste water transfer stations. It works through a ball that moves up and down inside the valve. The cavity is machined to fit the ball, and the slot tapered directs the ball towards the cavity, stopping reverse flow.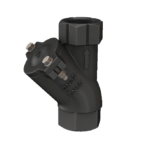 o It prevents the system from clogging.
o Provides efficient flow and prevents pressure loss.
o Check valves do not contain any parts other than self-settling ball. Due to these features, it offers ease of service and low maintenance cost.
It is manufactured from ductile iron body.
Ball Options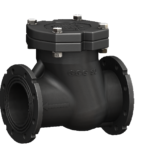 NBR coated balls used in the range of DN32-150 provide excellent sealing.
The ball hardness is minimum 65 shA in order to avoid a situation such as the balls getting stuck in their slots.
Phenolic balls are used when different ball weights are needed to prevent water hammer and noise. Also, phenolic balls are preferred in corrosive environments.
Phenolic balls are derived from polyurethane. It offers excellent abrasion and impact resistance. One of the reasons to be preferred is that it has good chemical and heat resistance.
Usage areas
o  Waste water lines
o  Rainwater applications
o  Sewer applications
o  Waste water treatment
o  Industrial applications