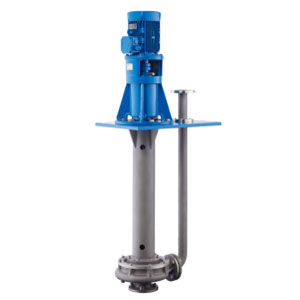 Product Detail
Pumpable Liquids:
It is suitable for printing low or clean viscous liquids which are free of solid particles and fibers used in industrial applications.
Technical information:
Flow rate up to 1000 m³ / h
Head up to 40 m
Speed ​​up to 1450 rpm
Operating Temperature up to 95 ° C *
Body Pressure (Pmax) 10 bar (16 bar) *
(Pmax: Suction Pressure + Head in Closed Valve)
(*) Pump material changes depending on the type of liquid, operating temperature and pressure. Please contact us for detailed information.
Design Features:
Vertical shaft, single stage, volute, end suction, closed impeller centrifugal pumps.
The bearings are grease oiled and above liquid level.
Column length up to 4 m depth.
The outlet pipe extends to the base plate in order to facilitate installation.
Usage areas:
Iron and Steel Industry
Power Plants
Food and Beverage Industry
Heating – Cooling – Ventilation
Paper and Pulp Industry
Chemical Industry
Oil Industry