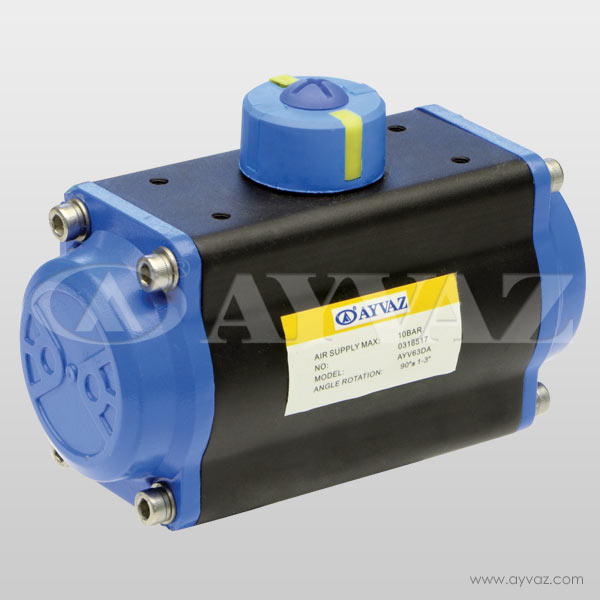 Product Detail
Single Acting Pneumatic Actuators have threaded type design and are produced in single acting type. The new generation of actuators is available as standard with the cam on the shaft, with both opening and closing direction ± 5 ° (optional with 0-90 ° limit stop for more angles). With improved and ideal designs, single-acting pneumatic actuators achieve a higher torque and increase product life without increasing the piston diameter.
DESIGN FEATURES
1. Continuous Position Indicator 3 dimension display actuator allows to monitor actuator position continuously and easily.
2. Shaft The nickel plated steel shaft is designed according to ISO5211, DIN3337 and NAMIR standards. Also, it is suitable for limit switch box, positioner and direct mounting for ISO5211 valve shaft.
3. Body Extruded Aluminium ASTM6005 body is hard anodised to protect the internal and external components against corrosion with reduces friction on moving pistons and extends the life cycle of the actuators.
Alternative coatings are available such as Nickel and PTFE for more aggressive environments.
4. Cover Diecasted aluminum end caps are primerely Alodine Chromatized coated which provides reduces wearing resistance. PTFE and nickel coating are available as optional for extremely corrosive environments.
5. Piston The aluminum injection pistons are coated with hard anodized to avoid deformation during their lifetime.The positions of the symmetrical pistons can be changed in the opposite direction to enable the actuator operating movement in the opposite direction.
6. Operation Angle Adjuster (Limit Stop) As the main feature of the new generation design, actuators with standard 90 ° operating position independent of each other in ± ± 5 ° position adjustment bolts can be easily re-adjusted. This allows easy adjustment of the actuator's operating position for buckling or other special situations that may occur in the valve shaft. Available with 0-90 ° adjustable limit stop.
7. Preloaded Springs The pre-loaded springs are coated against corrosion and can be easily added to cartridge designs and to the standard single acting actuator.
8. Bearing Low friction piston guides provide high trust and stability during operation of  actuators.The bearing elements can be easily replaced as needed.
9. Sealing Materials (O-Ring) NBR rubber O-rings provide troble free operation at standard temperature ranges. Viton for high temperatures, and silicone materials for low temperatures are optionally available.
10. Diameter Ball Valves DN15-DN100 Butterfly Valves DN25-DN300