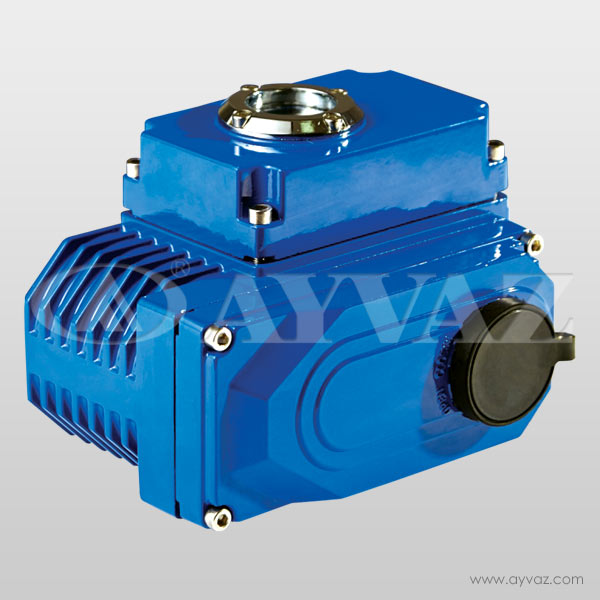 Product Detail
Electric actuator is used for controlling 0°~270° rotation of the valves and other similar products, such as butterfly valve, ball valve, damper, flapper valve, cock valve etc. It widely applies to petroleum, chemical, water treatment, shipping, paper making, power plant, heating, light industry and other industries. Drived by 380V/220V/110V AC power or 24V/110V DC power, inputs 4-20mA or 0-10V DC control signal, moves the valve to the right position, and achieves to automatic control,the maximum output torque is 1000N·M
Performance Features
1- Shell: The shell is made of horniness alumium alloy, with anodic oxidation treatment and polyester powder coating. It is strong corrosion-resistant and enclosure IP67, NEMA 4 and 6, IP68 is optional.
2-Manual Structure: The design of lever is safe, reliable, labor-saving, small. If without power, can be operated lever. If don't manual operation, put the lever in the lever folder, convenient to use.
3-Electric Machinery: Fully enclosed Squirrel-cage electric machinery, small, large torque, and small inertia force, F-class insulation rating, place hot protection switch internal to aviod damaging the electric machinery.
4-Indicator: Installs indicator in the center shaft and adopts convex mirror design, without waterlogging, more convenient to observe.
5-Space heater: It is used for controlling temperature, avoiding internal moisture of electric actuator condensed because of the changing of temperature and weather, keep inner electric device dry.
6-Sealing:Well sealing performance and enclosure IP67, IP68 is optional.
7-Limit switch: Mechanical,electronic double limit. Mechanical limit screw is adjustable, safe and reliable; electronic limit switch is controlled by the cam. Set position accurately and conveniently by simple adjustment, and it is not affected by excessive handle.
8-Self-locking—Accurate worm and worm gear transfer large torque efficiently, high efficiency, low noise(mac.50 dB), long life, with self-locking function, prevent inversion, as stable and reliable transmission parts, no need to refuel.
9-Anti-off bolt: The bolt will attach to the shell and not be off when remove the shell.
10-Installation: The installation size of the bottom meets international standard IS05211/DIN3337. There are double squares between the bottom and the hole connect to the stem which are convenient to install square stem valve straightly or in 45° rotation angle.11-Circuit-Controlling circuit meet the single-phase or three-phase power supply standard, circuit layout is reasonable and compact, terminals meet various of additional functional requirements effectively.