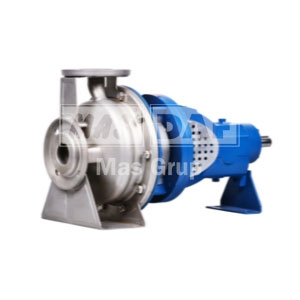 Product Detail
Pump parts are made of high-strength, high-quality, corrosion-resistant stainless steel.
Horizontal or vertical mounting options are available.
The retractable design allows easy access to the impeller and shaft seal without disturbing the suction discharge lines.
The centered discharge port on the upper side and the underbody support legs reduce alignment errors and ensure proper installation.
High operating efficiency – low operating costs
The lightweight and compact design reduces noise levels.
High-quality bushings and o-rings ensure compliance with standard pumping operations and high temperature and chemical environments.
In the monoblock model, only mechanical seal is used, whereas in coupling connection model, mechanical or soft seal is used.
Scope of application
Water Supply: Water Filtration and Transport, Main Channel Pressurization
Industrial Pressurization: Wetting and Cleaning Systems
Transportation of Industrial Liquids: Textile Dyeing, Pharmaceutical, Food, Chemical, Boiler Water Feeding, Condensing, Cooling and Air Conditioning systems, transportation of acid and alkali based liquids
Water Treatment, Water Filtration (Reverse Osmosis) Systems, Swimming Pools