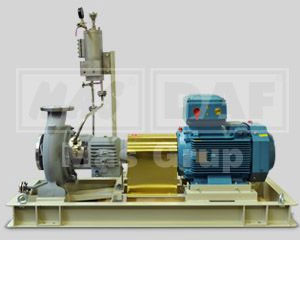 Product Detail
They are single-stage, end-suction, volute casing, heating jacket and mechanical seal with centrifugal axis and in accordance with ISO EN 2858 DIN 24256.
The center-foot model is radially and mixed-flow, closed-type impeller, balancing axial loads and dynamically balanced in accordance with TS 2576 (ISO 1940-1) G6.3.
The pump and motor are coupled to a common, rigid frame by means of an elastic and, where appropriate, ATEX-certified coupling.
The pump shaft, impeller, bearing housing and other parts can be removed without moving the suction and discharge pipes and the pump housing. This makes installation and maintenance easier.
It is possible to remove the pump without moving the motor by using elastic coupling with spacer. The maximum number of common parts is used, the same part can be used in pumps of different sizes, making stocking and replacement of parts easier.
Instead of elastomer o-ring seals, flat seals are used in body joints. This type of pumps can also be manufactured as heating or cooling jackets.
Scope of application
Oil Distribution and Filling Terminals
Ethanol and Biodiesel Plants
Transfer of Flammable – Flammable Chemicals
Power Plants
Industrial Plants
Starch, Fructose and Vegetable Oil Production Facilities
Printing viscous goods with heating jacket option
General Service Pump